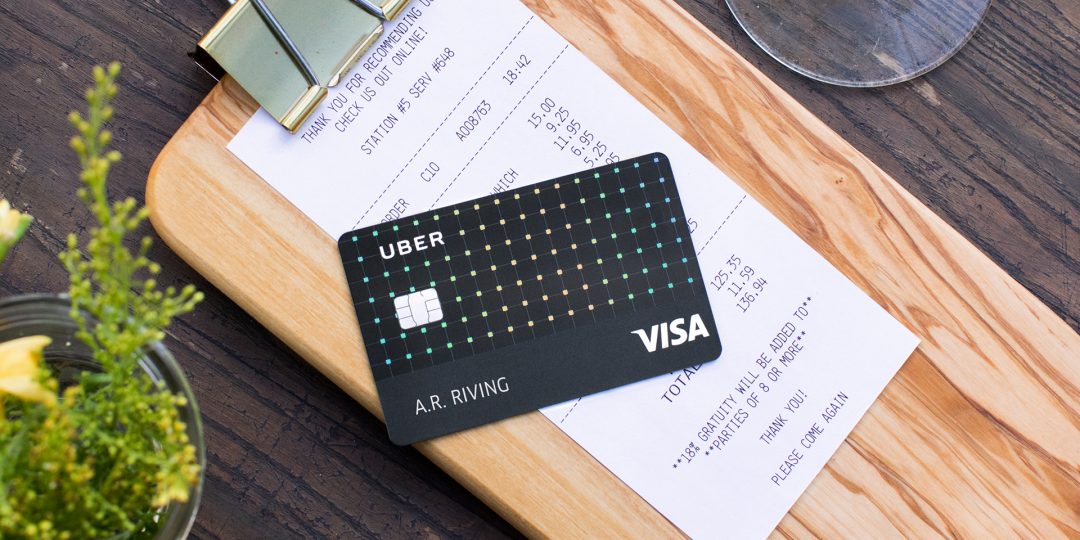 The new Uber Visa Card released today by Barclaycard strikes us as simultaneously ironic and compelling. It's ironic that it's named after Uber, but it's standout categories do not include Uber; they are restaurants, airfare, hotels, and vacation home rentals. The card's 2% earning rate on Uber spending, while higher than the card's 1% base rate, is unremarkable in the grand scheme of credit card rewards since there are other cards that earn 2% and even 2.5% cash back on all spending. Even the card's special, earned perks like $600 in mobile phone protection and $50 credit for online subscription services have nothing to do with Uber. What's more, it's essentially a cash back card with no bias for Uber redemptions, apart from the lowered minimum redemption of $5 for Uber credit versus $25 for cash back or gift cards.
Despite being merely Uber-ish, we find the eponym-betraying card to be potentially compelling for a lot of people. The generous 4% and 3% bonus categories plus other perks make it possible for this card to beat an all-categories 2% card and be your lone daily driver, if you're the keep-it-simple type. You can use our reward credit cards comparison tool to see how the Uber Visa Card stacks up against other cards for your spending and, thus, whether it deserves that exclusive place in your wallet. Because of the card's 0% foreign transaction fees and the broad acceptance of Visa, it's also very suitable for use while you travel abroad. Alternately, if you're a multi-card user, there's a very good chance you'll want this card in your wallet. The 4% earning rate on restaurants beats every other card we know of, with the sole exception of the Chase Sapphire Reserve card, which requires a hefty $450 annual fee to access its more-restrictive 4.5% earnings rate toward Chase travel portal redemptions. There hasn't been a card this good for dining since the time before Citi nerfed its Forward Visa card, which used to earn 5X ThankYou Points (i.e. 5%+) at restaurants. The Uber Visa Card's 3% earning rate for its travel categories is also very competitive. You can use the multi-card optimization tool at CreditCardTuneUp.com to help you decide if the Uber Visa Card makes sense in your arsenal.
Here are the Uber Visa Card's highlights:
Earn $100 after spending $500 on purchases in the first 90 days
4% back on restaurants, takeout, and bars, including UberEATS
3% back on airfare, hotels, and vacation home rentals
2% back on online purchases including Uber, online shopping, video and music streaming services
1% back on all other purchases
No foreign transaction fees when you make purchases outside the U.S.
No Annual Fee
Up to $600 in mobile phone protection including damage and theft when you use your Uber Visa Card to pay your monthly mobile phone bill
Up to a $50 credit for online subscription services after you spend $5,000 on your card per year. Eligible services include: Amazon Music, Amazon Music, Amazon Prime membership, Apple Music, Audible, DirecTV NOW, Google Music, HBO NOW, Hulu, Netflix, Pandora, Shoprunner, Sirius XM, Spotify
Redemptions start at $5 for Uber credit and $25 for cash back or gift cards
Cash back can be taken as a statement credit or bank direct deposit
Note: While the card technically earns points, those points are presently worth 1 cent apiece in all cases
Finally, while there are no specifics available at this time, this New York Times article indicates that both Barclaycard and Uber said that point transfers to airlines will be coming in 2018. We imagine those airlines could include current Barclaycard co-brand partners American Airlines, Frontier Airlines, Hawaiian Airlines, JetBlue, and Lufthansa, but that's pure speculation at this point. Regardless, any airline transfer partners would be just the cherry on top of this already-compelling mix of credit card goodies.