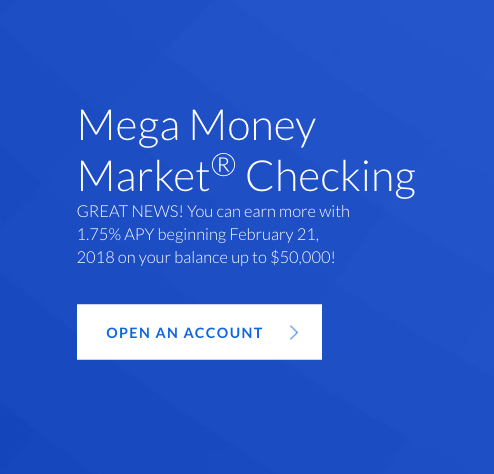 Update on March 2nd, 2018:  CIT Bank has leapfrogged All America Bank's Mega Money Market account by increasing the rate on their 11-Month, No-Penalty CD to 1.85%.  As a no-penalty CD, it can be thought of as a liquid savings vehicle that requires more effort to withdraw funds.  You can read more about CIT's No-Penalty CD and competing products here.
All America Bank® has announced on their home page that, beginning February 21st, 2018, their Mega Money Market® Checking account with earn 1.75% APY on your balance up to $50,000 and 0.5% on your balance above $50K.  Prior to that date it earned 1.5% on up to $35K and 0.5% on your balance above $35K.
Assuming nothing changes between now and February 21st, this change would have All America Bank's savings product leapfrog the current rate leader — ableBanking's Money Market product earning 1.7%, with no upper limit.  The obvious disadvantage of All America Bank's Money Market product is the $50K cap on the portion of your deposit that can earn 1.75%. An individual can only open one Mega Money Market® account, but a couple could obviously have two such accounts between the two of them and earn 1.75% on up to $100K collectively.
A few things to be aware of with the Mega Money Market® Checking account:
They include 6 free withdrawals per monthly statement cycle. After that, there is a $5 fee for each withdrawal after 6 per monthly statement cycle. The monthly statement cycle ends on the 20th of each month. If the 20th falls on a Saturday, the cycle will end on Friday the 19th. If the 20th falls on a Sunday, the cycle will end on Monday the 21st.
You're limited to a maximum of $5,000 per day in total ACH transfers, both inbound and outbound. However, if you initiate the ACH transfer from another bank account, there is no daily limit, either inbound or outbound.
The minimum opening deposit for this account is $50.
As always, you can use our Bank Accounts Tool to find and compare many of the best nationally-available rates.