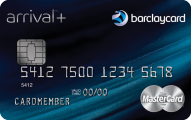 In July 2018, the Barclaycard Arrival® Plus World Elite Mastercard® was revamped to have a 60,000-mile welcome bonus after $5K of spend, but with the $89 annual fee no longer waived for the first year. Previously, the best introductory offer we'd seen was a 50,000-mile bonus after $3K of spend, with the $89 annual fee waived for the first year.  "Miles" are worth about 1.05 cents with this card, since you get 5% of your miles back with each redemption. So the newer offer represented about a $16 increase in net value (i.e. $105 more bonus value minus the $89 annual fee), but since it was offset by the opportunity cost of requiring an additional $2K of initial spend with a 2.1% base reward rate or a 2.9% net reward rate (i.e. 2.1% base rate plus the extra $16 divided by $2,000 (i.e. 0.8%)), some people would rightly consider that to be a downgrade to the card if they can reliably earn more than 2.9% on that extra $2K of spend.  Also, the additional $2K of spending in 3 months might put the bonus out of reach for many people.
Today, September 24th, 2018, Barclays made a change that addresses the opportunity cost portion of the aforementioned concerns:  the introductory offer has been revised to waive the first-year annual fee while keeping the welcome bonus at 60,000 miles for $5K of spend.  This is almost unequivocally an improvement over the previous 50,000-mile offer as one is earning a 5.25% reward rate (i.e. $105 extra bonus value divided by $2K of extra spending) on that additional $2K of spending, which is about as good as any special category earning rate.  (Admittedly, there are rare exceptions such as the Blue Cash Preferred Amex's 6% cash back rate on up to $6K of grocery store spending each year or Chase cards that earn 5X Ultimate Rewards points on certain spending categories while simultaneously having the value of UR points boosted to 1.25 or 1.5 cents by one of the Sapphire cards.) So, unless you're in the unusual position of sustaining non-stop bonus churning for the foreseeable future, this is a positive change that brings the sign-up bonus on this card to a new all-time high.
As always, you can compare this sign-up bonus offer to competing offers using our tool.