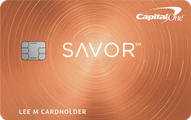 Capital One has effectively rebranded their Premier Dining Rewards Credit Card, launched in just March of this year, as the new Capital One® Savor℠ Cash Rewards Credit Card and made at least one significant improvement. The sign-up bonus has increased to $150 after spending $500 in the first 3 months. Previously it was just $100. The card still earns unlimited 3% cash back on dining, 2% on groceries, and 1% on all other purchases. It still has no annual fee and no foreign transaction fees. It's also worth mentioning that the Savor℠ card offers an introductory APR of 0% on purchases for the first 9 months.
Our Analysis
Apart from the mediocre $150 initial spending bonus, the main draw for the Savor℠ card is the 3% cash back at restaurants. There are several other cards that can net you 3%+ rewards on dining expenses and many of them also have no annual fee.  You can use our tool for finding the best credit cards for your restaurant expenses.
Is it worth making this your next new card?  Everyone's situation is different. If you're already earning, say, 2.625% on all of your spending using the Bank of America® Travel Rewards Credit Card with Preferred Rewards Platinum Honors status, you'd need a lot of restaurant spending to make that extra 0.375% earned with the Savor℠ card eclipse, say, a good sign-up bonus on a new card.  For example, it's pretty easy to find cards with sign-up bonuses worth $500, which is $350 more than the $150 sign-up bonus with the Savor℠ card.  (You can use our tool for finding cards with good sign-up bonuses for your spending.)  In this example, it would take $93,334 in restaurant spend earning the marginal 0.375% to surpass the extra $350 you'd get from harvesting a $500 sign-up bonus. On the other hand, if you have a lot of restaurant spend, perhaps for business travel, and your marginal reward rate on restaurant spending is more than the 0.375% in this example, it can certainly make sense to add the Capital One® Savor℠ Cash Rewards Credit Card as one of your daily drivers.